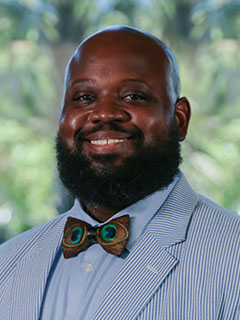 Ryan C. Holmes, an accomplished educator and leader in identifying and managing the complex trends in student campus life and higher education overall, joined the Division of Student Affairs as the Associate Vice President for Student Affairs and Dean of Students in summer 2017. Dean Holmes oversees judicial affairs, Greek affairs, campus chaplains, crisis management and student-community relations. He will also coordinate support and services for veteran students and the Sandler Center for Alcohol and Other Drug Education. Prior to joining UM, Holmes served as Assistant Vice President for Student Support at the University of Texas El Paso.
Holmes earned his doctorate in educational leadership and administration from the University of Texas at El Paso in 2014. He received a Master of Arts degree in counseling and personnel services from the University of Maryland-College Park in 2004 and a second Master of Arts degree in bilingual/bicultural studies from La Salle University in 2008.
Nationally, Holmes has delivered various talks and presentations on topics including social justice, race and gender bias, as well as conflict resolution and entitlement. He has also contributed to a variety of nationally published works including "Reframing Campus Conflict: Student Conduct Practice Through a Social Justice Lens" and "The State of Student Conduct: Current Forces & Future Challenges: Revisited." Holmes served on the American College Personnel Association's Ethics Consortium Committee from 2013-2015. He also reviewed student conduct program standards as an expert review panelist for the Council for the Advancement of Standards in Higher Education in 2014. Holmes also served as president of the Association for Student Conduct Administration from 2012 to 2013.